Some people have walk-in wardrobes – Bay Van der Bunt, 63, has a walk-in drinks cupboard, filled with some 5,000 bottles of old spirits and liqueurs such as cognac, armagnac, port and chartreuse.
It has taken the Dutchman nearly 40 years to build up what is believed to be the largest private collection in the world, and now he is selling it lock, stock and dusty bottle for €6m (£5m).
Mr Van der Bunt can be confident his investment continues to retain its fantastic quality thanks to glass. You don't have to be a connoisseur to know that glass is the only choice when it comes to preserving quality, purity, safety and taste. Sadly, only a very lucky few will find out just how perfectly. Kim Willsher, a journalist from The Observer newspaper, who interviewed Van der Bunt is one of those and tasted a 203 year old brandy says: "It tastes smooth and warm and hard not to swallow. But a bottle 50 years younger than this sold for €119,162 (£100,000) at auction last year, so it seems only right to savour every sip, especially if each one is worth around €260."
It is probably the most valuable and fascinating drinks cabinet in the world, which includes some truly historic glass bottles:
1795 BRUGEROLLE
Said to be the last remaining hand-blown jeroboam (6 litre) bottle in the world and believed to have travelled with the army of Napoleon Bonaparte as it waged war against Austria and the British. The Dutch republic fell to French troops in the same year. Bought from a Chicago collector in 1990 for more than €24,000. Estimated value €138,000 (£114,500).
1938 REMY MARTIN LOUIS XIII
More than 1,200 brandies were blended to form this special-edition cognac presented during the royal banquet of Queen Elizabeth and King George VI, in 1938. Only 600 of them are believed to still exist. Bought for €900. Estimated value €53,000 (£44,000).
1805 AE DOR, SOLEIL D'AUSTERLITZ
An extremely rare bottle – only three were made. In 1980 the owner of AE Dor kept one for himself, and presented the other two to French president François Mitterrand. Bought in 1989 for €3,000. Estimated value €18,000 (£15,000).
This article originally appeared in The Guardian.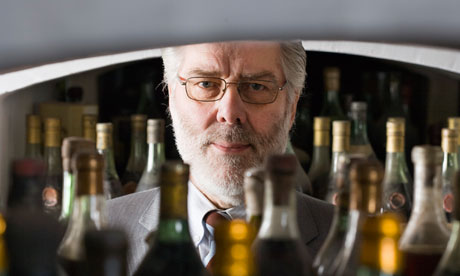 Posted in Uncategorized