On the hunt for some fun homemade gifts for your loved ones this Christmas?  Gifts in a Jar are always fun to make and are great and thoughtful presents, too. This year Friends of Glass decided to make our very own Christmas Gift guide, with all presents beautifully packaged in glass jars of course
Hope our ideas will inspire you to get crafty!
Gift in a Jar for Her
You simply can't go wrong with beauty treatments – every girl loves to make herself feel good. Simply gather together a small tub of face cleansing cream, lip balm, bath salts, sugar scrub, etc. Add the items to the jar with the content labels facing the outside so that the recipient can easily see what is in the jar. Once it is all in, print a 'Spa in a Jar' label and cut a length of ribbon to wrap around the jar to give it that special touch.
Credit: www.thegunnysack.com
Gifts in a Jar for Him
Who doesn't like hot chocolate? Try making this Snowman Hot Cocoa, it's very simple and you can do this if you need a last minute gift and have no time to bake. Simply add some hot chocolate mix powder and some marshmallows into the jar and add a recipe tag on how to make the hot cocoa.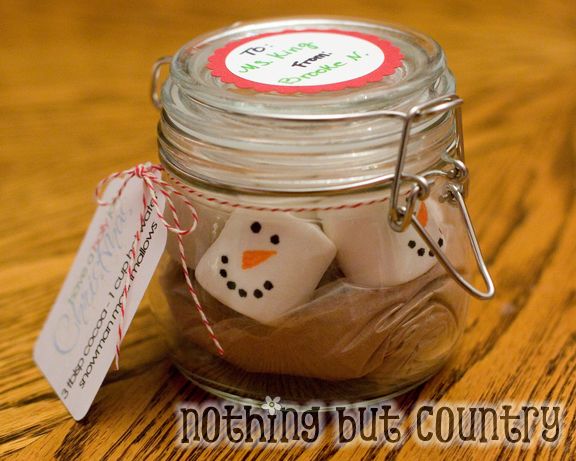 Credit: www.nothingbutcountry.com
Gifts in a Jar for little ones
The Galt Giant Art Jar is an exciting selection of art and craft materials in a big storage jar, complete with idea sheets for lots of fun craft activities. It makes a lovely gift that will keep children occupied for many fun-filled hours.
Credit: www.cassart.co.uk
Gifts in a Jar for a dog
Let's not forget our four-legged friends too and treat them to some homemade snacks to get their tails wagging. We're sure your furry friend will appreciate the effort
Credit: www.browzer.net
We would love to hear which gift in a jar idea is your favourite, also feel free to share your own
deas and suggestions for a perfect gift in a jar for Christmas