While exhibiting at BBC Good Food Show Scotland last month, Friends of Glass met lots of great companies who choose glass as their preferred packaging material. However there was one company which really stood out for us, due to their creative business approach and love for glass.
Demijohn is the world's first ever liquid deli, specialising in predominantly British-made quirky liqueurs, spirits, whiskies, oils and vinegars.  The store is a foodie's paradise with its various glass jars of delicious liquids and delightful colours, each promising its own distinctive taste.
What's more, Demijohn offers its customers the chance to choose the size and shape of the bottle into which their purchases will be poured.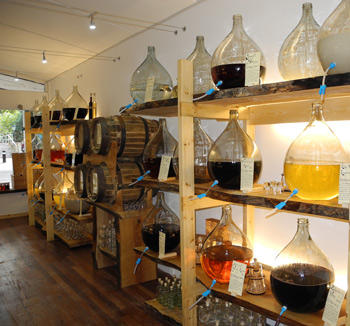 We're thankful that Demijohn chooses to serve its products in glass, as this will not only mean they will look great in any kitchen, but also ensure that the deli's delights stay fresher for longer. The company also encourages its customers to bring their bottles back and get them refilled – another reason why endlessly reuseable glass is perfect for the job and Demijohn is a true Friend of Glass!
For more information about Demijohn products visit their website www.demijohn.co.uk.